The holidays are just around the corner, and many of you are in the process of getting the decorations up, or maybe it's already been done! But what about holiday lights? It's time to get festive with these Smart LED Christmas Tree Lights. These are revolutionary Christmas lights that you can control through an app on your smartphone.
Yes, you really can customize these lights any way you like! You can control each light individually or a group of lights if you'd like. Adjust their sequence, brightness, or color. You can truly get creative with these Smart LED Christmas Lights. And if creativity isn't your strong suit, then use one of the preloaded designs from the app and get in the spirit! It offers a wide variety of stunning effects and animations!
UPDATE: Due to high demand, we're officially limited on supply. Make sure to place your order promptly.
Not sure what size to get for your tree?
Our golden rule is 5M of LED Lights per 2′ of Christmas tree. In summary, for a 2′ tree 5M Should be your choice. For a 4′ tree 10M should be your choice. For a 6′ tree 15M should be your choice. For a 7′ tree 20M should be your choice. (2′ = 2 Feet)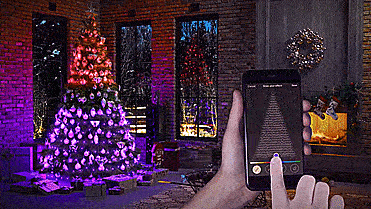 ??MULTICOLOR LIGHT EFFECTS – Create custom color-changing light displays with these app-controlled LED lights with more than 16 million colors.
??APP CONTROLLED – Use the App for iOS or Android to map the lights and create custom lighting displays. The multicolored smart lights instantly connect to Bluetooth or Wi-Fi networks.
??SMART LIGHTS WITH MUSIC SYNC – These lights are IOT ready! Sync your light decorations with your smart home for easy use; app-controlled lights are compatible with Alexa and Google Assistant. With the music sensor, you can sync these Christmas lights with your favorite Christmas tunes.
??CUSTOM DISPLAY – Download pre-loaded lighting effects or draw your own light display designs. Multiple string lights can be grouped in the app to perform as one extended decorative light.
??FAST AND EASY SETUP – Connect instantly via Bluetooth and pair the lights to your Wi-Fi network. The step-by-step guide helps you set-up and configure with ease!
??WATERPROOF – With rated IP44 protection which makes them perfect for both indoor and outdoor use.
Specification:
Brightness/Speed control from 1%-100%
Protection level: IP44
Color temperature: 3000 K
Input voltage: 5 V
Package Includes:
1 x Smart LED Christmas Tree Lights