This product is perfect for cutting up all types of fruit and vegetables. The blades are adjustable to the thickness you want, so you can cut produce into any size slices. It also has a food holder that secures your produce in place while it is being sliced, making it easier to chop or slice without worrying about how much pressure is applied. The Multifunctional Easy Table Fruit Meat Slicer is great for chopping up meats as well! The stainless steel blades are sharp.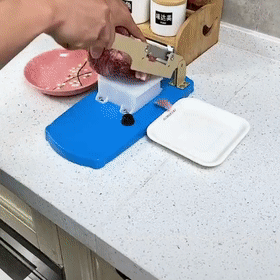 [Easy to Use] Simple operation, sharp blade, uniform size, firm, and durable.
[Suitable for] Multifunctional slicer, suitable for cutting donkey-hide gelatin, rice cakes, potatoes, sweet potatoes, radishes, etc.
[High Quality] The blade is made of alloy steel, the base is made of environmentally friendly engineering plastics, the white tool pad is made of environmentally friendly food-grade plastic, and standard screws and nuts.
[Advantages] The seventh-generation slicer can perfectly solve all the defects caused by the surface treatment of the iron knife holder.
Specifications:
Blade Length: 170mm
Material: Stainless Steel
Package Included:
1x Multifunctional Easy Table Fruit Meat Slicer