Do you have the same troubles?

Keep shower, tub, and sink drain free of clogs, no need to clean the sink filter.
The mesh-like holes around the body filter out debris and disperse the water flow into the water.
FEATURES
Effective and sanitary way to remove unwanted debris from drains. Designed to effortlessly catch any type of hair without disrupting the flow of water. It keeps shower, tub and sinks drain free of clogs.

Quality material. Made of non-woven fabric paper with strong adhesive backing. It is firm but soft in texture. No harsh chemicals.

Easy to use and install. Just wipe the area clean, remove the adhesive backing cover, stick it over the drain, and it's ready to use.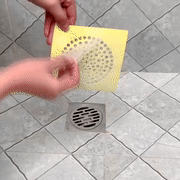 When it's time to clean up, neatly collecting hair around it, remove the drain sticker and dispose of. It's very convenient. Peel and stick over the drains, easily pulled off. No more tangled mess.
Fits most drains. Guaranteed to catch every hair, it fits any standard tub drain, bathroom sink, shower drain, kitchen sink drain, etc. It does not block and is an effective hair collector preventing clogged drains.
✨✨USING METHODS
Be sure to wipe the surface dry before use, no moisture remains
      1. Wipe dry water to avoid water stains
      2. Tear off the adhesive
      3. Stick on the floor drain evenly
      4. Collect enough hair and remove it and discard it
????????USAGE SCENARIOS
Strong applicability: multi-purpose design, use more flexible.
Applicable places: Kitchen sink, sink, bathroom floor drain, bathtub.
SPECIFICATIONS
Material: non-woven fabrics

Color: White/Yellow

Size: 5.9*5.9in
PACKAGE INCLUDED
15/45 pcs * Disposable Filter Floor Drain Sticker